Ireland at a glance
The Emerald Isle, as Ireland is known, boasts rolling green hills and a pleasant climate. As well as its natural beauty, it is home to the European headquarters of many top technology companies, including Apple, Microsoft and Amazon. With a booming economy, it has also topped the EU economic development list for six consecutive years and is one of the leading destinations when it comes to living, education and retirement.
Bartra's IIP is an attractive option for those looking to immigrate to Ireland, thanks to a 4-6 month fast approval process for granting permanent residency in Ireland and investment projects that provide 100% repayment at maturity and offer 4% annual interest to those investing in nursing homes.
To understand more about living in Ireland and why it's such a hot immigration destination, complete the form to make an appointment with us to receive a free printed copy of Ireland: An Essential Guide. Co-written with a local Irish journalist, the 74-page book covers a variety of practical topics, from school selection and healthcare to how to open a bank account and where to live.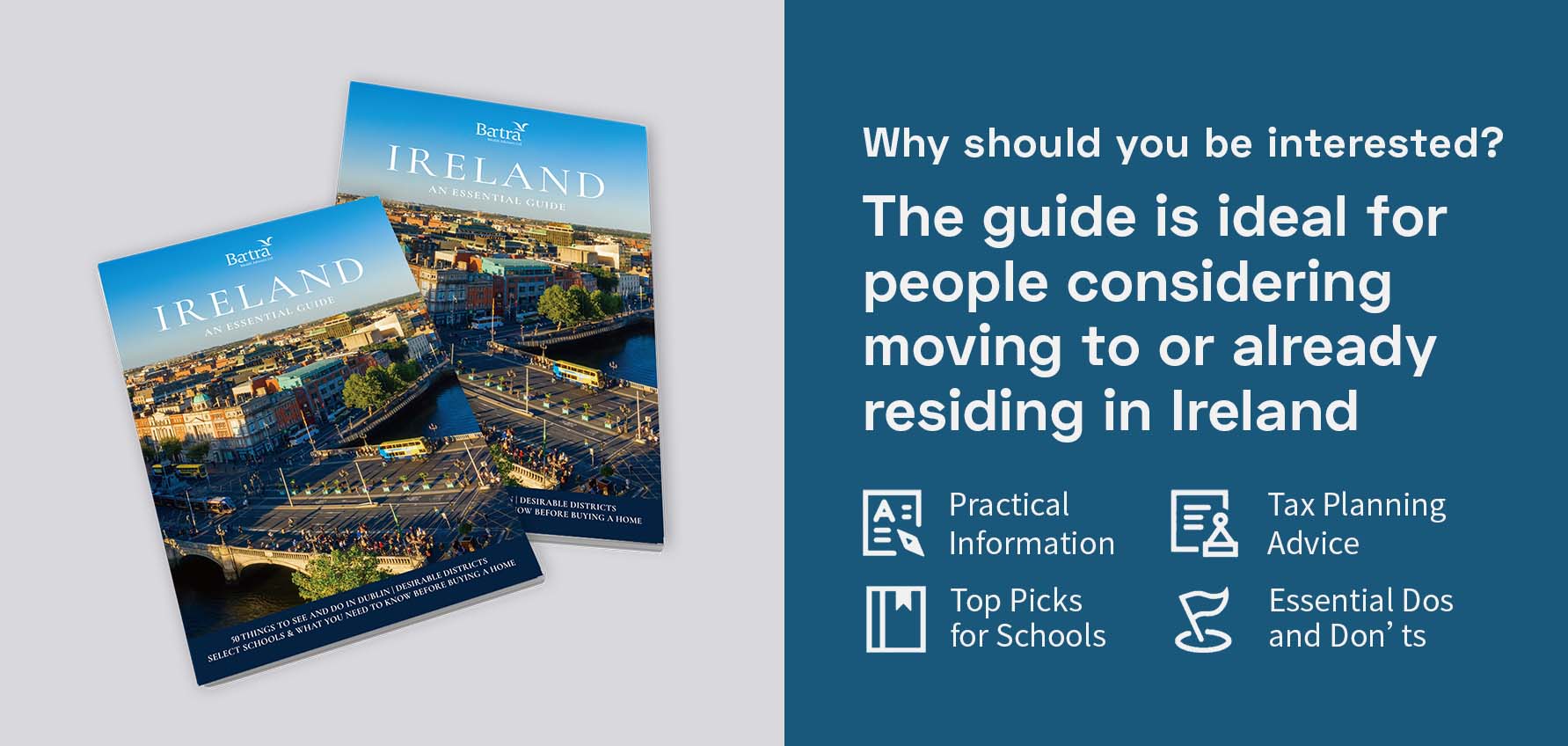 We hope it will help to give you some insight into this English-speaking country that has excellent international connectivity and is a great place, within Europe, to base you and your family. Ireland is a small country whose capital city Dublin is relatively compact, easy to navigate, with good transport links and an excellent quality of life. There are beaches galore, hills to hike and acres of green spaces, parks and playing fields, to spend your free time in.
James Hartshorn
CEO & Co-Founder of Bartra Wealth Advisors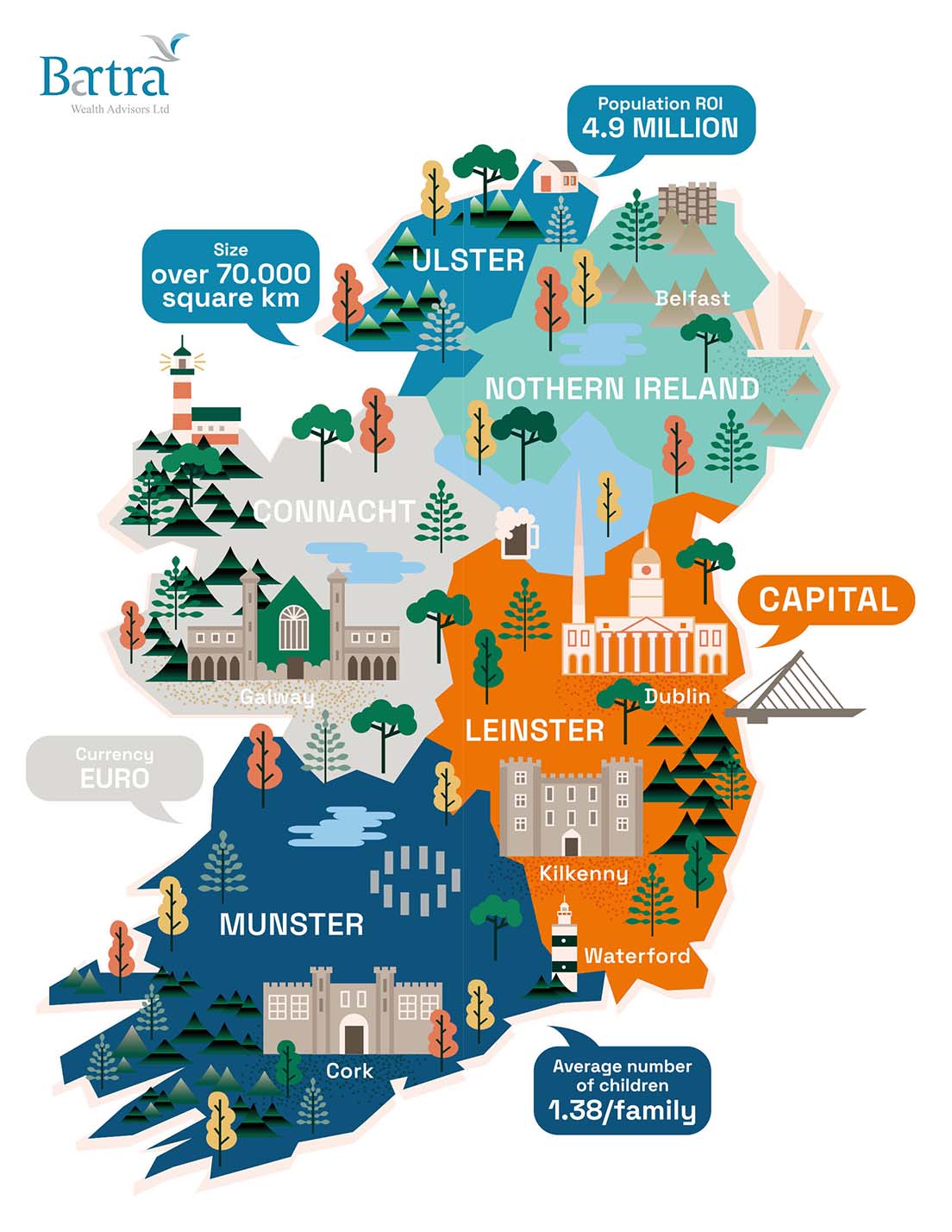 Everything you need to know about Ireland
Ireland: An Essential Guide features four key sections : Practical Information, Home & Property, Child & Education Development, and Food & Lifestyle. Readers can learn about Ireland's legal system, pre-immigration financial planning, the property market and purchase process, school selection from pre-school to university, and other popular topics, as well as practical tips on everything from setting up a local bank account, to recommendations for grocery stores, salons, restaurants and weekend getaway destinations, and advice on how best to integrate into Irish life.

The most authentic recommendations
To bring the best information to our readers, Ireland: An Essential Guide is co-written by Bartra and an Irish journalist, and features recommendations that range from '50 things to see and do in Dublin's fair city' to 'Explore the island: 25 memory-making moments.' The guide provides readers with many ways to embrace Irish life, whether that means taking in the spectacular sea views at Blackrock Park, strolling to Dun Laoghaire's pier, tasting ice cream from Teddy's 99, or admiring the giant slate tombs and fairy-tale-style castle in the Dublin Mountains.
The book also incorporates interviews with professionals from various fields in Ireland, in an effort to offer the most appropriate advice on financial, legal and property matters. Experts include Donal Hamilton, senior associate at Dublin law firm McCann FitzGerald; Michael Rooney, tax partner at EY Ireland; and Guy Craigie, director of residential at Knight Frank, among others.
In-depth and detailed information
Ireland: An Essential Guide not only covers a wide range of topics but does so in detail. If you are worried about relocation, you can refer to the moving solutions provided by relocators. Additionally, you'll find information on how to bring your pets with you, how to find a high-quality new home before moving, and what the most suitable transportation method is when transiting between home, school and work. Ireland: An Essential Guide allows you to start your new life in Ireland with ease. Just as the book says: "A truly excellent helper will be your local eyes and ears. We put ourselves in the court of your mind and ask the right questions to better understand any specific needs and concerns you might have."
The Immigrant Investor Programme (IIP)
Immigrating to Ireland through the IIP is fast, safe and flexible. Investors can obtain the equivalent of permanent residence immigration status in six months, with 100% repayment of a €1 million investment and a residing requirement of just one day a year.
The property section of Ireland: An Essential Guide introduces Bartra's IIP social housing and nursing home projects, and explains why these fixed assets are important to Ireland, supported by the government, and extremely safe IIP projects for investors.
Ireland: An Essential Guide is a comprehensive and practical guide with advice on every aspect of living, so whether you are considering emigrating to Ireland, or have already moved there, this will be a useful addition to your library. Click here to make an appointment to collect your free copy.